Winery Wedding Columbus, Ohio
Donovan and Courtney
Donovan and Courtney's Winery Wedding in Columbus, Ohio was absolutely breathtaking! But before you dig into all this glorious-ness check out their vineyard engagement session here.
When I first met Donovan and Courtney it felt like we had known each other for years already and were best friends. Obviously after their engagement session we were definitely besties!
Courtney loves how Donovan is so motivated and how he chases his dreams until they are a reality. He's a huge inspiration to her (and me!) and is always pushing her to be better and make her dreams come true. Donovan loves Courtney's smile (do you blame him?) and her constant laughter. So sweet!
Their wedding day inspiration was rustic and lace. I love the roughness of the barn that is rustic and the beautiful couture touches that Courtney incorporated. Donovan and Courtney had an outdoor ceremony at a cute little vineyard called Vinberige Vineyards just outside of Columbus, Ohio in Thornville. The venue had a cool rustic barn where they held their reception and where Courtney draped lace throughout.
After they got dressed we headed out for some photos and came across a stray barn cat named Tom. This cat was hilarious and refused to NOT be a part of their day. He even snuck into a few photos with Courtney and her bridesmaids. Tom literally stole the show for a minute 😂! Their wedding party was so much fun to hang out with and super silly which is right up my alley!
After the ceremony we did some gorgeous portraits of them in the vineyard. Donovan and Courtney wanted to do some type of sparkler photo so we decided to do it a little differently than most would. We had the wedding party only light up sparklers as they entered into their barn reception. So cool!
Their favorite moments wasn't the cat lol, but they loved doing a first look together. They truly enjoyed having that intimate time together before the day began and Courtney loved seeing Donovan's reaction. The speeches of their best man and maid of honor was another favorite part of their day that had them belly laughing yet left them in tears of joy from such kind words. I was so honored to be a part of their special day!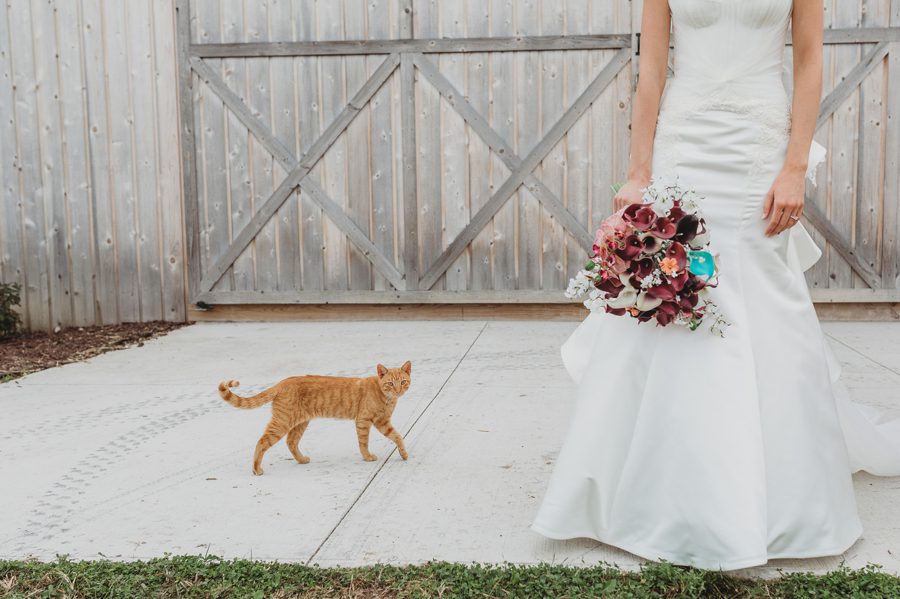 Venue: Vinberige Vineyards
Gown: David's Bridal
Designer: Zac Posen