La Scala Wedding
Charlie and Alexandra
Charlie and Alexandra's beautiful La Scala Wedding was an absolute dream to photograph. These two are so perfect for each other and you'll see that in their photographs. Charlie and Alexandra met while attending college together as students at Miami University.  They had been together just over three years before Charlie popped the big question to Alexandra. Their engagement lasted over two years. I love how they took their time planning their big day to make it exactly how they had hoped and dreamed. Charlie was so involved with helping during the planning process that he even went wedding dress shopping with Alexandra!
They opted to have a small intimate wedding ceremony with family only and welcomed friends to the reception that followed. Both Ceremony and Reception was held at the family owned Dublin, Ohio restaurant and banquet hall. It was just the right venue for Charlie and Alexandra. With no bridal party, we had so much time to spend with them and get so many great photographs.
We captured their first look right outside of La Scala then headed over to a cute little park just down the street called Indian Run Falls. The weather was slightly cool on this October day but they were troopers. I loved the park and felt it was so fitting for them. It kinda looks like an enchanted forest and Alexandra was the princess! One of my many favorite images from this wedding is the photo of them sitting on the fallen log in the middle of the park. Ahhh! So beautiful! Let's be real, I am completely in love with all of their photos!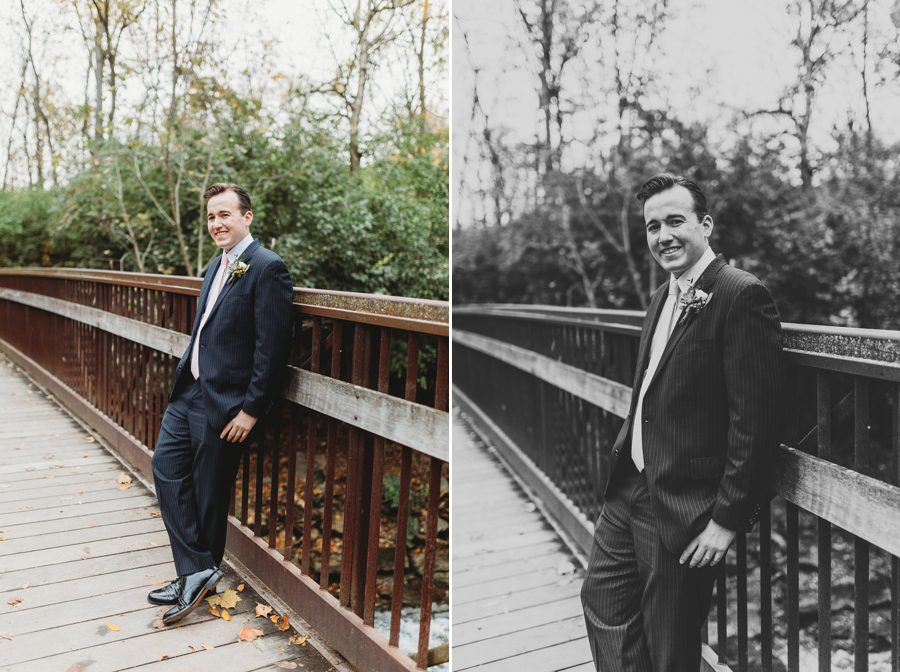 Forget Me Knot Photography is one of Columbus Ohio's best wedding photographers.
We would love to get to know more about you and your best day ever!
Contact us today!
Venue: La Scala
Florist: All In Bloom
Music: Magical Attractions
Cake: Cakes Creatively by Crystal
Gown: Brides by Young
Invitations: Magnet Street