Spring Engagement at Scioto Mile
Michael and Chelsea
Spring is in the air with this gorgeous engagement session that took place at Scioto Mile also known as Bicentennial Park in downtown Columbus, Ohio.
Michael and Chelsea are the cutest and sweetest couple you may ever meet! Also super laid back and chill. Just my kind of people! Would you believe me if I told you these two met in 6th grade? Everyone hears of High School sweethearts but Middle School sweethearts is where it's at! They have now been together for 14 years. Pretty amazing, huh?!
Michael is an avid kayaker and loves being outdoors or on the water. Chelsea is just like Michael and loves being on the water. She is the girl next door with a bit of country flair. Chelsea is also a photographer, so I felt truly honored that they chose me to photograph their biggest moment in their life. Together these two spend their summers on the lake with both their families and all of their closest friends. They love adventure, traveling and fishing. Incorporating water in their engagement session only seemed natural for these two.
We started their engagement session off with their cute pup named Bubba! Look at this chocolately cuddly pooch! He literally stole the show. I swear he's smiling in these photos!
The Kiss
Okay so a little back story, Chelsea's parents Phil and Kim came along to help with Bubba. Which I absolutely loved because I got to meet them before the wedding. Well let's just say it was pretty interesting when I prompted Michael and Chelsea to kiss with them nearby. They both chuckled and said they don't kiss in front of them. I mean how sweet is that! So I just told Phil and Kim to cover their eyes lol it resulted in lots of funny jokes and the most adorable smiles from Michael and Chelsea.
We eventually walked up the bridge where they snuggled and giggled together. Then they had some alone time to kiss in the golden sunlight on the river front and it was breathtakingly beautiful. Stay tuned for their Lake side wedding blog coming soon. xoxo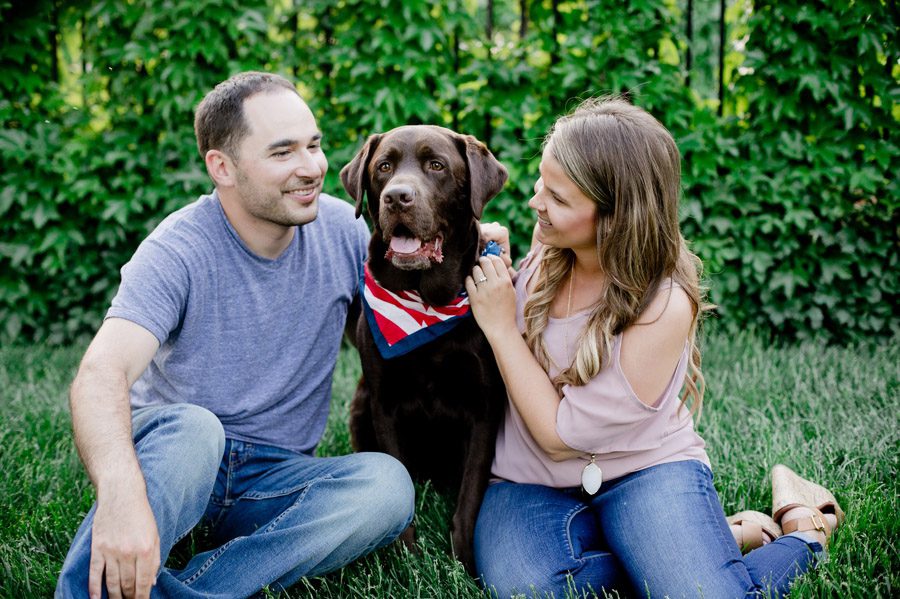 Forget Me Knot Photography is one of Columbus Ohio's best wedding photographers.
We would love to get to know more about you and your best day ever!
Contact us today!